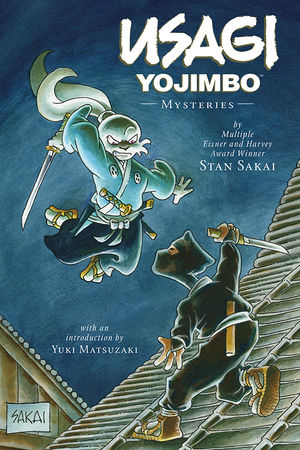 I've said it before, and I'll say it again now, and I'll very likely say it again: I love Usagi Yojimbo. When they started putting out the Usagi Yojimbo Saga omnibus editions I was crushed. I'd been collecting the previous collections since Book 2. The Saga editions are not only longer but also a different page size, which would look terrible on my bookshelf. Happily, they've continued to release the older sized collections alongside the Saga editions, so here we are at Book 32: Mysteries. This volume collects issues #159 through #165, which had a lengthy break between issue #160 and issue #161.
The first two stories are self-contained and the third is a two-part story, all seemingly unconnected other than by the location, and the presence of Inspector Ishida, who was last seen a few months earlier in the title story of Book 31, The Hell Screen. It's not until late in the three-part story The Mouse Trap, that we start to see the connections between the previous events.
The vast majority of Usagi collections are named after a major story within it, but Mysteries is simply an apt description of the collection as a whole. While Miyamoto Usagi is obviously the main character, he has fallen into the part of an outside consulting detective, of sorts, to the police and Inspector Ishida. It's hardly a unique concept in the grand scheme of the literary universe, but it does make for some very different interactions to take place as the inter-personal power dynamic shifts away from Usagi's traditional place on top. This allows, or sometimes forces, a very strong protagonist to differ to the other characters around him. So while the idea isn't new, the approach in the context of this character certainly is.
It's clear that creator, Stan Sakai, has been enjoying the Inspector and writing the relationship between him and Usagi. The character was featured heavily in Book 31, now throughout Book 32, and continues to be an important figure in the currently running storyline The Hidden, which will comprise Book 33.
I've noticed, as you may have, that my reviews of Usagi Yojimbo titles tend to be shorter. That's because in the over 30 years that this character has been in publication there aren't many things that haven't already been said and that I haven't said, myself, in the past.
So let me sum this up succinctly. This is a 5 out of 5 book, and one of the strongest Usagi collections I can remember. End of story.
Usagi Yojimbo is currently published by Dark Horse Comics who are online or on Facebook and has his own website as well.
Geek-o-Rama received a copy of this book for the purpose of this review. All thoughts, comments, and opinions are those of the individual reviewer.