MISBEGOTTEN VOLUME ONE:
Blade Runner meets The Da Vinci Code 

MISBEGOTTEN VOLUME ONE: RUNAWAY NUN 
Writer(s): Caesar Voghan and Eric Granger
Artist Name(s): Justin Case, Casey Bailey; William Bohm (Letters)
Cover Artist(s): Justin Case
128 pgs./ M / FC
$14.99
In a post-apocalyptic world turned medieval, the Church sends their top monk warrior to infiltrate a renegade scientist's enclave and save a clone of Jesus from being sacrificed during a mock Easter Pageant. The first trade paperback ends with the warrior's arrival on Harlequin Island, where he gets caught in the crossfire between two gangs of clones gone rogue.
If you're tired of spider-this and bat-that, how about a clone of Jesus for a change…? RUNAWAY NUN is an exercise in genre bending, a mashup of bio-punk and cyber-punk, with a touch of 'swords&sandals.' Highly experimental (and slightly irreverent), this comic book endeavors to be a break from the 'more of the same' fare that populates the shelves of any comic book store.
When asked what they wanted readers to get out of this book, writers Caesar Voghan and Eric Granger responded, "That the authors of this book belong to a mental asylum…?!?" They went on to describe their intended audience in more detail: "MISBEGOTTEN is a comic book NOT for everyone… The disturbing images that populate its pages are highly unsuitable for people of all ages, genders, and races, not to mention religious orientation. The bad language, the gore, and the sex found here and there (and everywhere!) in this book could cause severe emotional trauma and/or irreversible spiritual damage. Some people read it, then asked to be exorcised. Others quit going to church. A few wished they were never born. Please consult a psychiatrist or your spiritual mentor before opening the book… You have been warned!"
Look for MISBEGOTTEN VOLUME ONE: RUNAWAY NUN in comic book stores on January 10, 2018. Preorder the book with the Diamond item code NOV171131.
Advance review copies are available for review.
Enjoy preview pages from MISBEGOTTEN #3:
And preview pages from MISBEGOTTEN #4: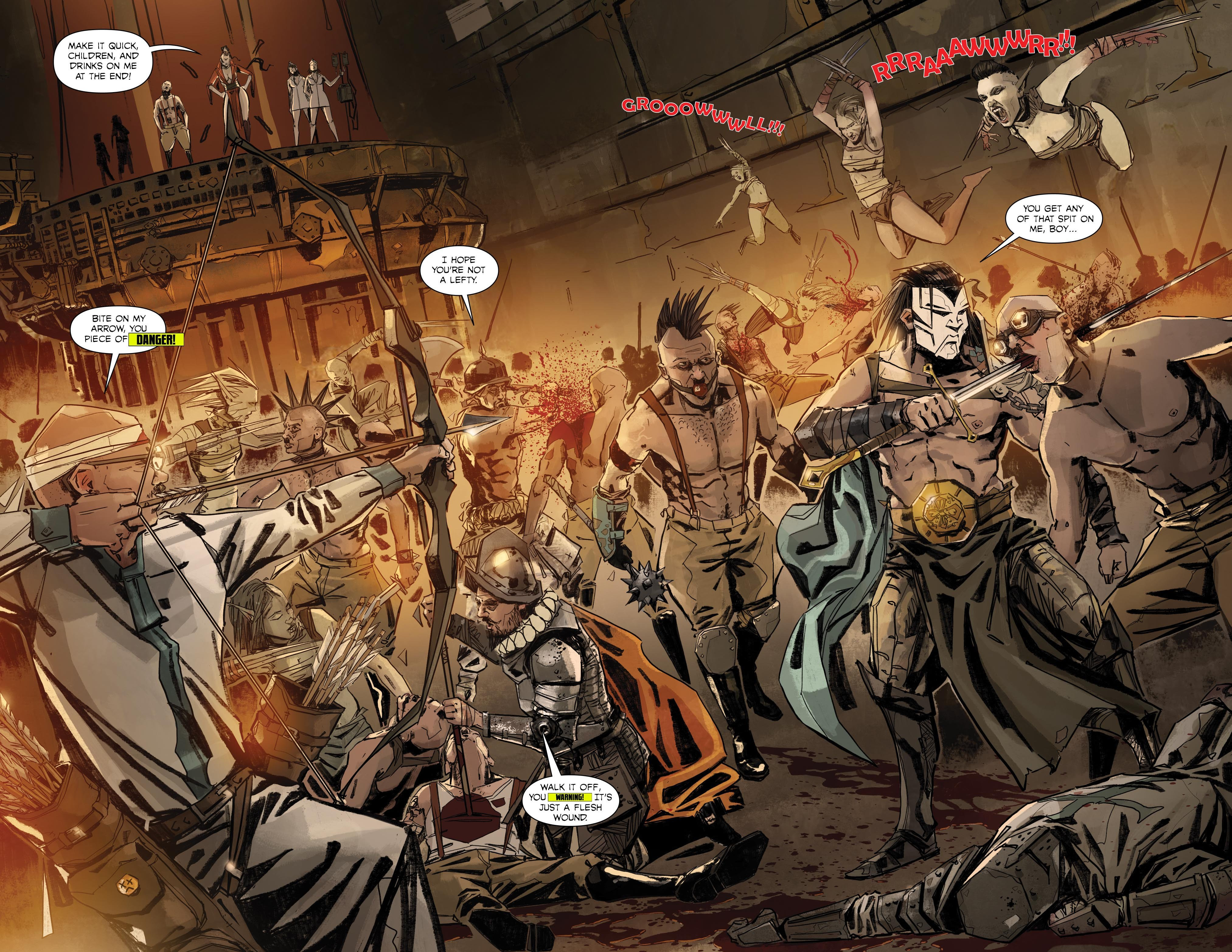 What people are saying about Misbegotten:

"I definitely want to see where this goes, and I will assume much of my thoughts will again be thrown out the window at the story twists and turns unexpectedly—a feat that most comics these days do not accomplish." (Slurred Nerd Blog)

"Misbegotten is that weird mixture of the funny and the morbid, of the terrible and the terrific that you find only once in a while pulled off with any degree of success." (Albedo)

"…the comic stands above the rest thanks in large part to a downright beautiful display by Justin Case. Highly detailed and well-structured characters populate an expertly designed landscape, as the talent attacks each page with realism in mind." (SnapPow.com)

"If you melt Salvador Dali, de Chirico and a 1940s saucy postcard in one bubbling cauldron you have both the cover of Caesar Voghan's dark novel and an indication of the surreal journey on which you are about to embark." (Goodreads Customer Review)
The creative teams are available for interviews and promotional opportunities.
For more information retailers, press and conventions can reach Nicole D'Andria atndandria@actionlabcomics.com.

ABOUT ACTION LAB ENTERTAINMENT- Formed in 2010 with the purpose of pooling their collective talents into a single, powerful entity, the members of Action Lab Entertainment have countless years in multimedia publishing, design, and business.  Their first release, Fracture, was successfully funded through Kickstarter and since then they have continued their mission to produce high quality, genre-spanning entertainment.  Since its formation, the accolades for A.L.E continue to build on a daily basis.  Among its more popular titles are all ages material like the Eisner, Glyph, Shel Dorf Award nominated series PRINCELESS, MIRACULOUS (based on the Nickelodeon Television series), Jamal Igle's MOLLY DANGER, Artist/ Writer Katie Cook's GRONK and Gayle Middleton's (My Little Pony, The Littlest Pet Shop) monstrously adorable VAMPLETS. Action Lab's Mature Readers imprint ACTION LAB DANGER ZONE continues to push the envelope of comics entertainment with titles as varied as Charles Band's PUPPET MASTER and Dan Mendoza's over the top horror-comedy ZOMBIE TRAMP, VAMPBLADE and ITTY BITTY BUNNIES IN RAINBOW PIXIE CANDY LAND, and socially relevant titles including SOUTHERN DOG, KINGDOM BUM and M Goodwin's TOMBOY.