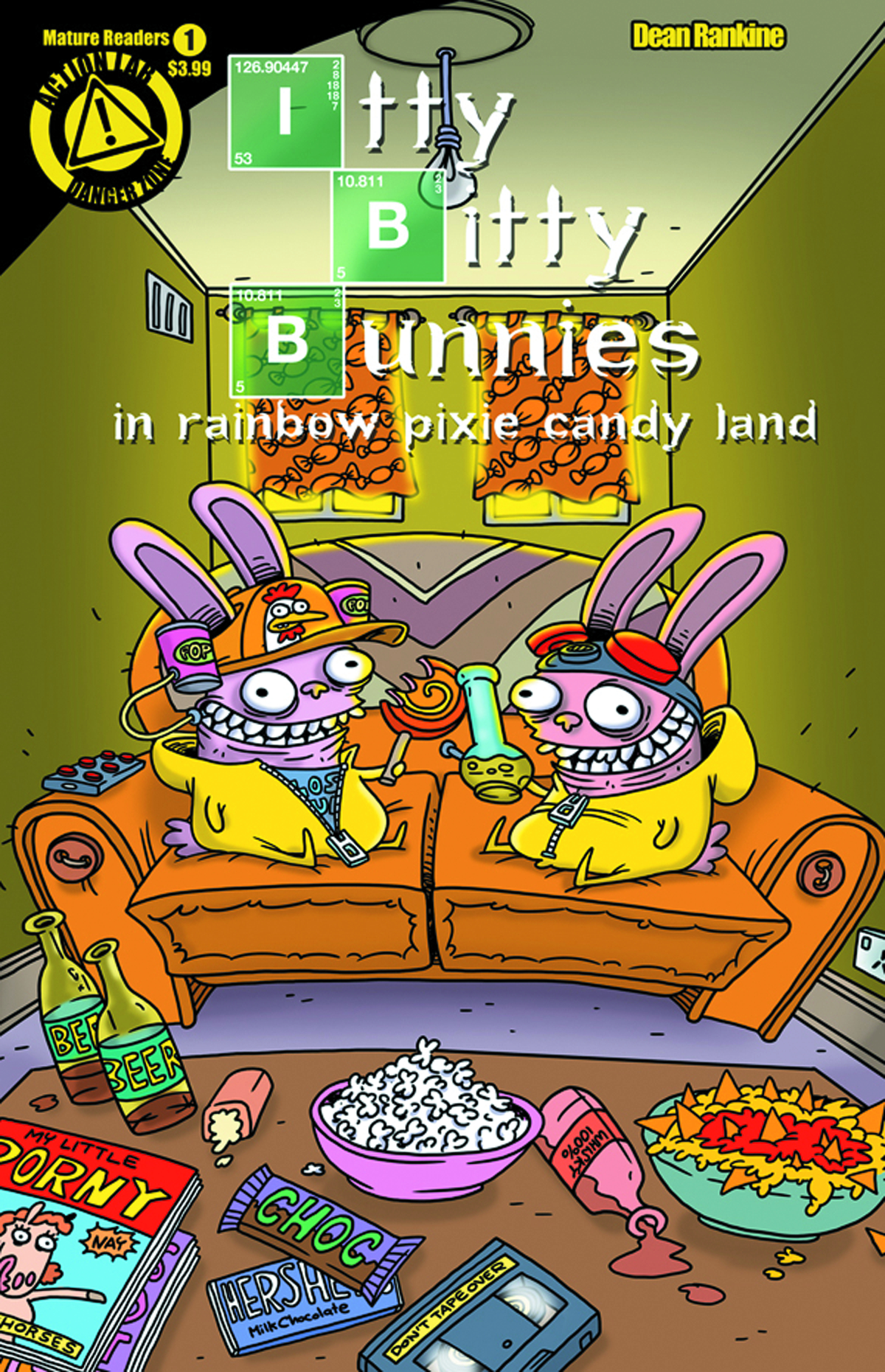 Itty Bitty Bunnies creator and cartoonist extraordinaire Dean Rankine lives down under, where Christmas is celebrated in the summer, so it makes perfect sense for his depraved creations to go on a holiday adventure now stateside. It also makes sense to the Bunnies to cook up a big batch of meth to help fund their Yuletide activities!
In between all the many books of fantasy adventures, sci-fi epics and superheroes it's inevitable to run into off the wall titles. Off the wall, crazy, completely bizarre, among many other things. That's pretty much what Itty Bitty Bunnies is, and that insanity continues with their latest in Itty Bitty Bunnies In Rainbow Pixie Candy Land Save X-Mas.
Compared to my last encounter with the Bunnies, this new book has a bit more of an actual story. At least, as clear of a story as you can get with them. Throughout their attempt to try and rescue Christmas, we yet again see a multitude of pop culture references and of course, drug induced stupidity. I certainly appreciated the Breaking Bad throwback in particular, even if it had to be in this book.
The trippy, psychedelic artwork that represents just that kind of story continues here. It's not bad per se, but it's not spectacular either. It's appropriate to the kind of book that this is and does what it needs to.
Of all the Danger Zone books I've read, this one would probably have to be the one that takes most advantage of the Mature rating. There's really no limit to the disgusting, inappropriate and just generally wrong that goes on with these two. If that's fine by you, go ahead and grab it. Otherwise, it may be a bit much.
For more information on Itty Bitty Bunnies or other Danger Zone titles, check out Action Lab/Danger Zone.
Geek-o-Rama received a copy of this book for the purpose of this review. All thoughts, comments and opinions are those of the individual reviewer.